September 28-30, 2018
Santa Fe, NM
With Nigel Dawes, MA, LAc

22.5 Continuing Education credits approved for CA and TX and NCCAOM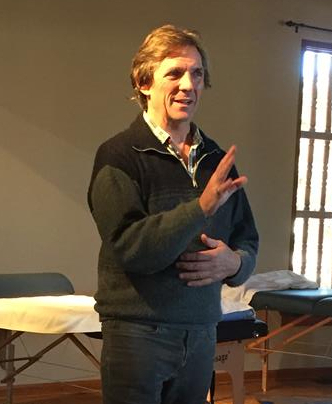 This advanced study course in Gastro-Intestinal disorder diagnosis and treatment with Kampo Sino-Japanese Herbal Medicine will be offered this fall with Nigel Dawes, MA, LAc instructing.
Nigel just finished teaching the first 2 year Kampo certification series outside of his home base in New York City in January. We were fortunate enough to host this series here in Santa Fe, NM and now we are ready to bring him back to teach an in-depth weekend intensive with practical work on live clinical cases as well as case study presentations focused on working with Gastro-intestinal disorders with Kampo.
This weekend will be open to anyone interested in strengthening their current Kampo knowledge with a focus on GI disorders as well as to those who might be new to Kampo and want an introduction to the basics followed immediately with condition focused study.
We hope this will be the first in an on-going series of Special Topic seminars in Kampo with the incomparable Nigel Dawes in Santa Fe.
Join us this autumn in Santa Fe for this great workshop!
Schedule:
Friday 9/28/18 through Sunday 9/30/18
9:00 am-5:30 pm all 3 days
Registration:
Registration for this workshop will be limited to the first 20 students to complete registration with full payment received by the office. (We will refer to postmarked date for check payments made by snail mail.)
Registration Fee:
$600.00 for all 3 days of instruction
(credit card payments will incur a 2.75% convenience fee)
CANCELLATION POLICY:
• For cancellations made on or before 8/31/18 – Full Refund*
• For cancellations made after 8/31/18 – No Refund
*Credit card convenience fees are non-refundable
From Nigel Dawes, M.A., L.Ac. about this upcoming workshop
"Will you become a shrub (a tree without a trunk)?……..for if your core is hollow it is like reaching blindly into a beggar's sac and hoping to find treasure……..but when your trunk has established itself……the branches and leaves will develop naturally by themselves".
Otsuka, K., Kampo: A Clinical Guide to Theory and Practice, transl. De Soriano, G. and Dawes, N.; Churchill Livingstone, 2010.
Kampo Institute
℅ NYC Kampo Institute
32 Union Square East
Suite #915
New York, NY 10003
646 732-8097
Nigelkampo@gmail.com
Digestive Disorders from a Kanpo perspective
In Kampo 漢方, Sino-Japanese Herbal Medicine, disorders & imbalances of the Stomach & intestines are taken very seriously & are considered to be the author of many diseases. The notion that the Earth constitutes the center & origin of good health (acquired energy) is well established both in Japanese Herbology as well as in Acupuncture & Moxibustion practices in Japan.
Practical examples of this clinical bias include the practice of prophylactic direct moxibustion on S.36 every day for longevity and health maintenance, still common amongst many Japanese today. In Kampo, Ginger (Sheng Jiang 生姜), Jujube (Da Zao 大棗) and Licorice (Gan Cao 甘草) appear as "messenger" herbs in the vast majority of Classical formulas from the Shang Han Lun 傷寒論, all of which are sweet in nature and nourishing to the middle jiao, facilitating digestion of the formula as a whole as well as pointing to the significance of digestive health to overall strength, resistance and wellbeing.
The historical origins of Kampo's focus on digestive health date back to those small, elegant formulas from the Han dynasty but also include influences from the 12th century Jin-Yuan period schools in China, in particular the Center-Tonifying School of Li Dong Yuan (aka: Li Gao, 1180-1251AD), which held that proper treatment of Stomach/Spleen was at the heart of all successful clinical outcomes along with proper dietary practices. One of Li Gao's principal students later travelled to Japan and his teachings in turn strongly influenced one of the major theoretical currents there, later to be known as the Gosei-Ha 後世派, Later Generation School, started by Dosan Manase 曲直瀬道三 (1507-1594) and others. In this school, tonifying the Earth element became a standard clinical focus from the Edo Period right up to the contemporary era.
In Kampo diagnostics, great emphasis is placed on the art of Fukushin 腹診 (Abdominal Palpation). Findings from the abdominal exam are used to directly identify specific formulas for treatment and each of the classical formulas from both the Shang Han Lun and Jin Gui Yao Lue 金匱要略have their own, unique corresponding abdominal conformations. Additionally, the abdomen is used to assess the constitutional strength of the individual, which matters greatly in the process of formula prescribing. "Weak" abdomens are generally assumed to indicate poor Gastro-Intestinal function termed Iccho Kyo Jyaku 胃腸虚弱 in Japanese requiring formulas that warm and nourish the middle. Regardless of the nature of an individual's presenting pattern of illness, those with "weak" G.I. functioning must be treated with care and dispersing, draining or purgative approaches must be avoided.
The stomach is known as "The Sea of Fluids" in Chinese Medicine. In Kampo, all fluid imbalances are believed to originate in the stomach and, once fluid accumulates in this organ it can become stagnant or "toxic", known as "Sui Doku" 水毒in Kampo terminology, which in turn can give rise to many other pathological changes including "stagnation" (Ki Utsu) and counterflow (Ki Gyaku) of the vital energy as well as the formation of pathological fluid in the form of rheum and phlegm. It is worth noting that, in TCM, most such patterns of fluid imbalance are attributed to Spleen dysfunction. However in Kampo, since Spleen belongs to Yin, only chronic, degenerative illness affecting the digestive system where actual organic changes are taking place (e.g.: endocrene and PH dysfunction, ulceration, cancer etc.) are attributed to Spleen patholoogy. Such imbalances will be treated with tonics e.g.: Four (or Six) Gentlemen / Si (Liu) Jun Zi Tang and their derivative formula family. However, in the majority of less severe cases, digestive problems often begin with functional imbalances in the vital energy (Ki Byo). Accumulation & stagnation of pathological fluid (Suidoku) can cause many problems of digestion & naturally block the normal flow of Ki. So in Kampo, the Stomach is treated directly in many of these examples using herbs that descend Ki & fluids, resolve damp accumulations & promote normal Transformation & Transportation within the digestive system as a whole.
In other words, most functional problems of the digestive system are considered Yang in nature & therefore the Stomach (The "Sea of Fluids") is the first target for diagnosis and treatment.
The Workshop
The workshop will focus on two distinct but related clinical approaches:
The treatment of named (western) G.I. disorders and the formula differentiation applied in each case.
The assessment and treatment of constitutional diagnoses involving the G.I. system.
As always, in each case formulas will be discussed in terms of their Clinical Pattern, Sho 証, including Constitutional Patterns, Taishitsu Sho 体質証, signs and symptoms and especially Abdominal Conformations, Fuku Sho 腹証.
Detailed notes on formula differentiation and therapeutic application will be provided along with notes from the audio-visual presentation used during the workshop.
Practical abdominal assessment techniques will be demonstrated with particular emphasis on constitutional and pattern assessment as they relate to digestive health.
The following are some of the Western named diseases that will be discussed from a Kampo perspective with respective formula differentiation in each example:
Acute Gastritis
Chronic Gastritis (includes Pancreatitis)
Ulcers (Gastric / Duodenal)
I. Neurosis
Nausea / Vomiting
Heartburn / Hiccup
Stomach Atony
Prolapse of the stomach
Stomach cancer
Anorexia
Acute Colitis
Chronic Colitis
Irritable Bowel Syndrome
Acute Diarrhea
Chronic Diarrhea
Chronic Constipation
Haemorrhoids
Abdominal Pain
Intestinal Coalescence
Abdominal Gas
Hepatitis (Chronic / Acute)
Cirrhosis
Gallstones (Cholelithiasis) & G.B. inflammation (Cholecystitis)
Ascites
Summer Affliction
Thirst
Format of the workshop
Friday
Demonstration of Fukushin (Abdominal palpation) in the Koho-Ha style
Practical application of Fukushin in group
Fukushin and disease pattern Vs. Constitution
Pairwork and consitutional assessment using the abdomen
Saturday morning
Introduction to the topic of Digestive Disorders in the Kampo tradition.
Excess Ki patterns of the middle with corresponding formulas
Fukushin practice
Ki pattern assessment using the abdomen
Disease differentiation
Saturday afternoon
Deficient Ki patterns of the middle with corresponding formulas
Fukushin practice
Ki pattern assessment using the abdomen
Disease differentiation
Sunday morning
Blood and Water patterns of the middle with corresponding formulas
Fukushin practice
Blood and Water pattern assessment using the abdomen
Disease differentiation
Sunday afternoon
Disease differentiation
Review
Wrap-up